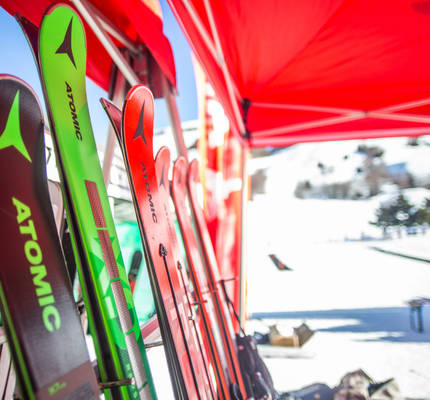 EQUIPMENT RENTAL
You can choose from several packages!

EQUIPMENT RENTAL 
You will be able to pick up the previously requested equipment on site, after providing credit card data and ID card as a deposit.
You can take special insurance on the equipment in the rental office!
Although it is not compulsory to wear a helmet in France, we highly recommend it!
You will get back your ID card after handing in your rental equipment on the last day at the rental office.
Have you got everything you need for the slide? If you need anything else to make the maximum fun out of the parties and the slopes reach out to our partners and apply the Snowattack discounts!
After booking your package, you can find and book it under extra services. Once you have entered your booking, you can book it later (until the service is sold out).
PACKAGES AVAILABLE FOR RENT
ECONOMY PACKAGE
With the Eco package, you can book all your ski equipment at a super price. We recommend it for those who are looking for the lowest price!
Includes: skis, ski boots, and ski sticks downgraded from Performance and Evolution categories in well-maintained conditions.
Price: 72€ 
Helmet is available for an extra fee: 30€
PERFORMANCE PACKAGE
Recommended for those who want to try out several types of slopes and snow. We offer comfortable, high-quality skis that guarantee stability and grip at full speed too.
Includes: skis (downhill, all-mountain) or snowboard (all-mountain, freestyle), ski boots, ski sticks
Extra: possibility to change equipment once during the week (Monday-Thursday), depending on capacity.
Price: 106€
Helmet hire is also available for an extra fee 30€