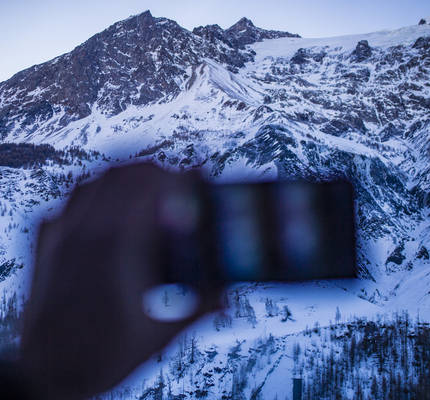 Les 2 Alpes Home of extraordinary experiences

Although the first thing coming to our mind when thinking of Les 2 Alpes is the magical ski experience and snow-covered slopes, there's so much more you can do, even without strapping skis to your feet! 
You can buy a walking ticket or walking pass as several lifts take you not only uphill but also downhill. This will give you a chance to gain experience you could not have without sliding.
What are the possibilities for those who don't want to slide? We have tried to put together a few points for you.
Belvédère des Ecrins viewpoint
It is located at 3400m with one of the most panoramic views of the Alps. The Belvédère des Ecrins is a unique experience, as, on an iron footbridge, you can look out over the distant peaks of the mountains or even to the depths below. In clear weather, you can even see the top of Mont Blanc. 
The approach to the lookout is also an incredible thrill for young and old alike. After taking Jandri Express I and II, we change to France's highest glacier cable car to reach the destination station. From there, it is about a 10-minute pleasant walk to our destination. 
Les 2 Alpes has a fabulous ice cave at 3200m. This is good news for those who want to visit the lookout, as the Dome Express glacier train's starting point is located next to the artificial cave system.  
The 200m long tunnel features unique and special hand-carved ice sculptures sculpted by two high mountain guides, Bernard Lambolez and Bruno Gardent. Its mystical euphoria is further enhanced by the fact that we can see ice blocks up to 1000 years old during our underground walk. 
Until now, you probably thought that the pubs on the tracks were only available to those arriving by ski or snowboard. Then it's time you came to Les 2 Alpes to be proved wrong. 
You can get on and off the various lifts, such as the Jandri Express or Le Diable, so the restaurants and bars near the lifts are open to all. Have a delicious lunch with a fabulous panorama at La Glacier restaurant at 3200 metres, or a glass of mulled wine at any of the bars. 
For the ultimate party people, you can also have fun at the Chalet de la Toura at 2600 metres, where we're planning parties too!
For gourmets, the Michelin-starred Le P'tit Polyte restaurant is a 'must have' at the 5-star Hotel Mounier. Also, the Michelin-recommended restaurant Le Diable au Coueur is at the top of Le Diable, where you can enjoy an outstanding menu for as little as €35.
Finally, if you're a dessert lover, Crepes a Gogo is the place for you!  
Horse Sledding and Dog Sledding
Discover the city and its surroundings from a new perspective with our special sledding programmes. Try horse sledding or even dog sledding for an unforgettable experience.
You can explore the snow-covered streets of Les Deux Alpes and its surroundings by horse-drawn sleigh in a 1-hour ride. It's a great way to get around the town and explore routes you've never walked before.
You can also discover secret forest trails by sledging huskies. It's an extraordinary experience that can feel like the Arctic. You can admire the surroundings in a quiet, peaceful and idyllic setting and have the opportunity to enjoy the stunning mountain scenery.
Please note that you can only try the sledges by appointment. 
If you're tired of the usual training and hikes and want to try yourself out in a more exciting mountain environment, then you should try snowshoeing!
You can choose from a variety of options at local ski schools. You can either go out on your own - certainly with friends - on safe, dedicated trails or take a guided tour. And for the brave ones, you can even go up at night with a guide and admire the illuminated city and starry sky on the way. 
Snow floating probably needs no introduction. It's an exciting, modern way of sledging, modelled on the well-known summer pool float slide.
In Les 2 Alpes, however, it is developed most extremely. At the end of the track, you don't just slow down nicely, but on the contrary, you accelerate further. And the "punch" comes at the end, as you bounce on a massive big air bag. Isn't it fun? 😀
E-biking is becoming increasingly popular. Understandably, as it can recreate the feeling of mountain biking without the effort. Les Deux Alpes also allows you to enjoy this great new sport on snowy tracks and trails. 
There are three options to choose from: you have all-day or a few hours-long trips. And for the more adventurous, you can set off at sunset and return home on lit trails. All tours are accompanied by a professional who will give you all the information you need and teach you all the necessary skills to get up and down the mountain without any accidents.